Obtaining a Green Card (officially known as a Permanent Resident Card) in the United States can be a complex process consisting of intricate forms, strict deadlines and demanding document procurement. While the assistance of a professional is not legally required, it can dramatically increase your probability of securing residency in a timely manner. When you need help with your Green Card applications in Massachusetts, you can rely on our team at Barrales Law. As immigrants ourselves, we fully understand the impact that Green Cards and other issues pertaining to U.S. immigration law can have on you and your loved ones.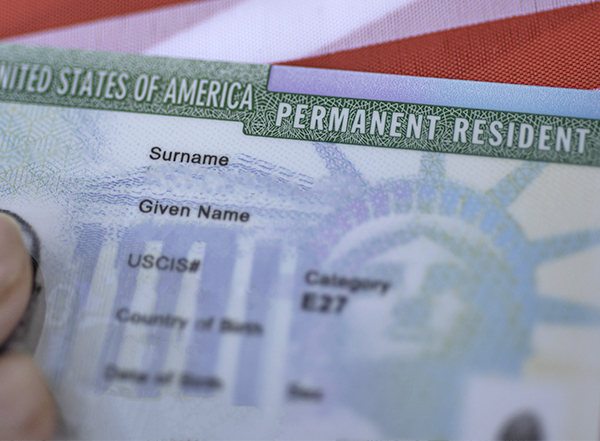 Our reputation as the go-to law firm for Green Card applications in Massachusetts is built, in part, on feedback from satisfied clients. Jessica shares her success story, "I just picked up my Green Card! She is the best! Thanks to attorney Talia Barrales for everything!"
In another five-star review, Julie writes, "Best law firm around. Very professional and friendly staff. My whole family is being represented by Attorney Talia and they've never had any problems. 100% recommend this law firm!"
When it comes to obtaining a Green Card, there is no one-size-fits-all style solution. Details like your category of eligibility, familial sponsorship and work history can make the difference between approval and denial. We consult directly with you to familiarize ourselves with your situation. Using this information, we can identify opportunities and challenges that are unique to your case, then design and implement a custom legal strategy that reflects them. We assist with every aspect of Green Card applications in Massachusetts. Our efforts can include carefully drafting and submitting required documents, interview preparation, managing correspondence with various government agencies and more. Even if you have already been denied, we may be able to reverse the decision through appeals.
At Barrales Law, we take a comprehensive and compassionate approach to issues surrounding immigration law. When you work with our team of legal professionals for you and your family's Green Card applications in Massachusetts, you can expect a pleasant experience from start to finish. Our bilingual attorneys converse with you in your preferred language to ensure that nothing falls through the cracks. We diligently track the progress of your application status each step of the way. You will be kept informed throughout the process with regular updates so that you know exactly what to expect and when.
If you need legal assistance with Green Card applications in Massachusetts, call (617) 720-3600, email info@barraleslaw.com or contact us using the form here on our website to get started.
Testimony from individuals we have worked with has helped establish our reputation as the go-to choice in an immigration law firm
"Incredible firm! The attorneys here at Barrales Law really do care about their clients and are willing to go above and beyond. I couldn't have chosen a better lawyer. Thank you so much!"
"Best law firm around. Very professional and friendly staff. Thanks to Maria for all your support. A thousand thanks for your support throughout this process and for giving my family one more opportunity for happiness."
Personalized Attention For All
You'll Speak Directly With An Attorney