Becoming a citizen of the United States is a complex process that will vary based on your specific circumstances. While the assistance of an attorney is not legally required to pursue citizenship, it is highly recommended. When local individuals and families need a citizenship lawyer in Boston, they rely on our team at Barrales Law to guide them on their journey to realizing the American dream. From obtaining a Permanent Residency Status Card (Green Card) and filing your Application of Naturalization to your preparing for your interview, final oath of allegiance and everything in between – we are here for you.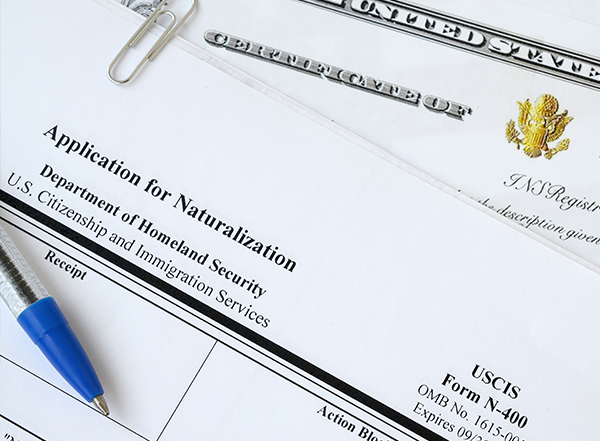 Positive feedback from our clients helps us to maintain our status as the go-to firm for a citizenship lawyer in Boston and throughout Massachusetts. Ruben shares his success story in a concise 5-star Google review, "The best. Excellent work. My entire family has managed to win cases and obtain papers in this country."
Another satisfied client writes, "Totally grateful, first to God, and then to Barrales Law for the great job they did on my case. I am ready and excitedly waiting for my green card. My daughter has been here with me as an American resident for over 2 years! Thanks to you, for all the legal support. Super recommended!
At Barrales Law, we personalize every aspect of our services to reflect your specific goals as well as the potential challenges that you may encounter along the way.  Our process begins with direct consultation between you and your citizenship lawyer in Boston. We apply insights gained through this exercise to craft and implement the ideal legal strategy for securing your citizenship. Our efforts can include drafting and submitting essential documents like Form N-400, rehearsing the Oath of Allegiance, scheduling biometric services (if required) and more. We are always ready to litigate on your behalf in court rooms across Massachusetts when such action becomes necessary.
When you work with our team at Barrales Law to pursue United States citizenship, you can expect a transparent and stress-free experience. All of our legal services are delivered with honesty, compassion and we see your case through until the end. Our bilingual lawyers discuss your case with you in your preferred language so that every detail is fully conveyed. You can rest easy knowing that filing deadlines, correspondence with government agencies and other important tasks are being handled with care by a seasoned citizenship lawyer in Boston. As soon as information regarding the status of your applications and other updates become available, we will share them with you.
If you need an citizenship lawyer in Boston, call (617) 720-3600, email info@barraleslaw.com or contact us using the form here on our website to get started.
Testimony from individuals we have worked with has helped establish our reputation as the go-to choice in an immigration law firm
"Incredible firm! The attorneys here at Barrales Law really do care about their clients and are willing to go above and beyond. I couldn't have chosen a better lawyer. Thank you so much!"
"Best law firm around. Very professional and friendly staff. Thanks to Maria for all your support. A thousand thanks for your support throughout this process and for giving my family one more opportunity for happiness."
Personalized Attention For All
You'll Speak Directly With An Attorney